Welcome Back!


Welcome back everyone! Its been a minute, but we are open again and have lots of fun things happening.

You now the drill; grab a cuppa something warm and tasty, get comfy and read on!



What's New?


FINANCING NOW AVAILABLE!

We are so pleased to now offer financing for all of our machines, software and other large purchases.
You can choose how long you wish to finance, anywhere from 3 - 72 months.



So how does it work? We are using Flexiti. You apply through flexiti.com, which is a simple and easy application process which can be completed in store, or from the comfort of your home!



For more information, please reach out to us!




~


Vintage Pillow - Lea


Have you seen the Coastal Cruiser free pattern from Tula Pink? We saw it, and fell in love, so we had to make a kit inspired by her design.

See the pattern HERE

See the kit HERE
~


Cardinal Pillow Case Kit


This Pillow case kit is a That Sewing Place original pattern, which is included with the kit. This pattern is a fun and easy project, with a little bit of applique.
See Pillow Case Kit HERE



~


Last Chance For Kwik Sew




We were saddened to hear that kwik sew is being discontinued. Until that time, we are offering our patterns at 20% off.

Is there a kwik sew pattern you are looking for but don't see in our website? Let us know, sometimes we have patterns hiding in store ;)

See patterns HERE
Classes
Wanderer Wallet

February 25, 2022 from 1PM - 3PM

In this class you you will learn to work with cork, and make the Wanderer
Wallet designed by MOMENTS by Liz. There is no designate kit, so come in to the store and choose your cork and fabric, the seam team will be so happy to assist you in choosing from our variety of cork.

This class is virtual.

REGISTER NOW


~


Industrial Age Quilt - LIMITED SPACES LEFT!


| | |
| --- | --- |
| | |

January 22, 2022 and Feb 5, 2022 from 1:30PM - 4:30PM

In this 2 part class You will learn how to make the Industrial Age quilt designed by Matthew Pridemore. There will be a kit for the class with all the materials required for the quilt top.

PLEASE NOTE THIS CLASS IS VIRTUAL ONLY, and will be hosted on zoom.

REGISTER NOW


~


Embroidery Intro for Brother Machines

February 25, 2022 from 9AM - 12PM.

In this class you will learn the essentials of your embroidery machine. Threads & threading needles hooping & stabilizing how to navigate your machine access built-in designs (including text) as well as working with importing designs. Leave this class with the confidence to tackle all your upcoming projects.

Class fee is waived for embroidery machines purchased at That Sewing Place. If you have purchased your machine from That Sewing Place, please contact us and we will take care for registration for you!

This class is virtual.

REGISTER NOW



Promotions


January Foot of the Month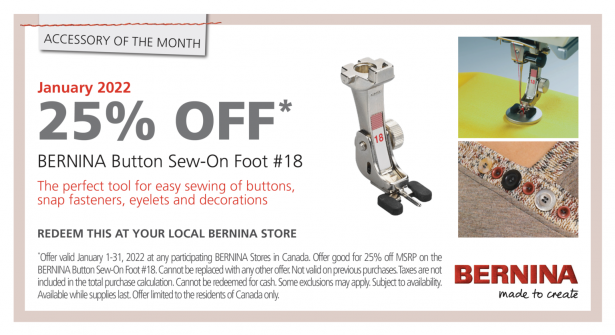 BERNINA A Cut Above Sale - There's still time to shop!



Ask the Expert!
Tanya Asked : "
Hello Seam Team, I am new to working with heat transfer vinyl, and want to do a design with multiple colours. Can I Layer Heat Transfer Vinyl? I wanted to use regular Heat Transfer vinyl, and maybe glitter or flock as well. Thanks!"

Expert Answer: "Hello Tanya, great question! You absolutely can layer Heat Transfer Vinyl quite successfully but it takes a little bit of planning. First take into account the type of vinyl. For now we are going to be talking about the vinyl carried here at That Sewing Place.

Premium Plus is happy to be layered. It is not complicated, just be sure to shorten the time you press the garment, so that as you apply more layers, the first ones don't get overcooked. Shortening the time by about 3 - 5 seconds is usually good, just be sure to check to make sure its stuck to the fabric before removing the carrier.

Glitter can be layered, but only if it is the top layer. If you try to layer on top of glitter it will not stick.

Flock can also be layered, again only if it the top layer. If you use flock underneath a layer, you will get a ghosting effect because it has extra thickness.

Specialty vinyls like metallic, glaze, and such may be able to be layered, but it's best to always do a test run with the materials you have to be sure, because they are all unique.

Puffy Foam can be layered, but because it is thicker it isn't the first choice for layering.

Foil can be layered, and with some really cool effects! Be mindful though, because foil doesn't stretch, it doesn't like to be layered with other vinyls that do on a garment with stretch. Best to layer foil of different colours, or put it over top of another vinyl.

Now you know which vinyls can be layered, you can plan our your design!

Don't forget to use Thermo-Tape to secure each layer in place before heat pressing, as well as your cover sheet to protect your Platen (the hot part of your heat press or iron) and your design.

-Mikaela


***


Do you have a questions for one of our experts? Send them to mikaela@thatsewingplace.ca

There are no stupid questions, we are all here on a learning journey together!
Name That Tool?

Needle grabber. Why use a needle grabber? Well, when you are working on thick materials, it certainly beats grabbing it with your teeth!

The PRYM Needle Grabber is perfect if you need to do any kind of hand stitching through tough materials. Thick seams, denim, canvas and more. A great grip, without the stress and pain in your fingers.

See Needle Grabber HERE



Until we have an opportunity to see you again! Stay healthy, stay safe!

Sew On and Sew Forth!

~

Jaret and The Seam Team

That Sewing Place
905-715-7725
info@thatsewingplace.ca
10-16610 Bayview Avenue
Newmarket, ON L3X 1X3