That's a Wrap!


Here we are, thankful for this year and looking forward to next. It has been so lovely to see you all in store and on zoom classes and we want to thank you for another year of support from all of you amazing people!

For our last newsletter of the year, we have done our best to pack it full of goodies to inspire you! See you all very soon!

With love,

The Seam Team



Winter Hours Update




We will be closed from Saturday December 25 - January 3, and will be OPEN again on January 4, 2022

Please note: Friday December 24 we will be open from 9am to 1pm only.

Our current open hours; Tuesday to Friday from 1 - 5 pm, with the option of shopping by appointment in the morning will remain the same in 2022.

~

During our winter closure from December 25, 2021 - January 3, 2022, we are completely closed. Over this time we are going to spend it with our family, and we hope you can safely do the same.

This means we will not be able to answer emails, phone calls or other messages, and are not available for any reason in the shop. If you have any concerns we will be happy to address them as soon as possible in the new year.

Thank you for understanding!



What's New?


Freestanding Snowflakes - Lea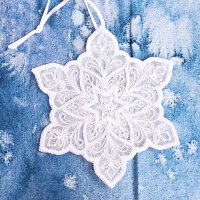 One of the most beautiful winter wonders...Snowflakes! These freestanding lace snowflakes are absolutely gorgeous stitched up. Intricate, and delicate just like real snowflakes these freestanding lace snowflakes are a lovely way to celebrate winter. Lay them out on a table, or hang them in the window!

See freestanding snowflakes from Embroidery Library HERE
See design from Urban Threads HERE



~



Mesmerizing Owl Candle Wrap - Lea





Aren't these adorable? Lea used the Mesmerizing Owl Candle Wrap pattern from Urban Threads. These are a fun project for the home, or for a gift.

To make freestanding lace you will need your embroidery thread of choice, and Badgemaster which is a heavy water soluble stabilizer.

See pattern HERE
See Embroidery Thread HERE
See Badgemaster HERE



~




Embroidered Scissors Zipper Case - Lea


These Scissor bags are perfect for storing your fabric scissors for travel, or even just to keep them safe in the sewing room.

Lea added on the loop and D ring, which makes it handy if you want to hang them up! Great for yourself, or as a gift they are a quick easy in the hoop project.

See the free pattern HERE



~



Freeform Table Runner - Lea



See Pattern from Sweetpea HERE




Classes


We are excited to be welcoming in some new classes! The "core" classes are still running, and will continue to do so.

Sewing Machine Essentials - BERNINA 3 & 4 Series

In this class, you will start with the basics to get to know your machine, and then progress to maintenance, tips and tricks from the tech, troubleshooting and finishing with a questions and answer period.

Our favourite part about this class is that although it is geared to be a starting point to learn your new machine, it is not only for beginner sewists. If you want to gain a deeper understanding of your machine, or just have a refresher this class is a great option for you.

Class fee is waived for machines purchased at That Sewing Place. If you have purchased your machine at That Sewing Place and would like to register, please contact the shop and we will take care of registration for you.

*Please note, for machines purchased at That Sewing Place this class is included free of charge. Please contact us for registration if you have purchased your BERNINA from us.

WHERE: This class is going to be held virtually, not in person.
WHEN: January 12, 2022 from 1:00 PM - 3:00 PM

REGISTER NOW


~


Serger 101 - Jaret

Learn to confidently operate your serger by understanding the thread settings and how to make them work for you. Discover speed-threading techniques how to adjust your stitch settings to suit your sewing needs and serger maintenance.

* Please note, for machines purchased at That Sewing Place this class is included free of charge. Please contact us for registration if you have purchased your serger from us.

WHERE: This class is going to be held virtually on Zoom
WHEN: January 26, 2022 from 1:00 PM - 3:00 PM

REGISTER NOW



~



Industrial Age Quilt Class - Guest Teacher Heidi Pridemore




In this 2 part class You will learn how to make the Industrial Age quilt designed by Matthew Pridemore. There will be a kit for the class with all the materials required for the quilt top.

P.s You can't see it in the photo, but the fabric has a metallic gold touch - so gorgeous!

WHERE: This class will be held on zoom, not in person.
WHEN: January 22, 2022 and February 5, 2022 from 1:30 PM - 4:30 PM.

REGISTER NOW

Promotions


FINANCING AVAILABLE SOON!

Are you looking to purchase a new machine, or start up a business but the cost is putting a halt on your creative dreams? Don't worry, we have you covered!

We will very soon be offering financing on all of our sewing, quilting, overlocker, embroidery and cutting machines! The financing is totally flexible depending on you, and what terms you would like to proceed with. For more information, please don't hesitate to ask us!


~


Foot of the Month for January: BERNINA Button Sew On Foot #18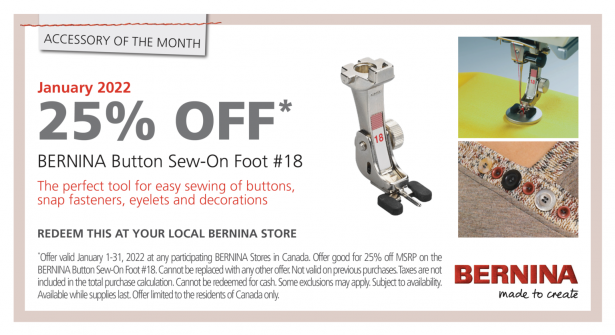 Don't forget that the BERNINA A Cut Above sale is still on. What machine is taking YOU home?






~



BROTHER MACHINE SALE EXTENDED!

We have extended our sale on some of our brother machines!

For more information, either click on the flyers below or contact the shop.






~






For a limited time we have almost the entire shop on SALE - IN STORE AND ONLINE!

December 14, 2021 - December 24 2021 is our Winter Blowout Sale.

20% off store wide*

25% off Kona solids, ALL presser feet, Soak and Eucalan, Heat Transfer Vinyl sign vinyl and specialty vinyl.*

30% off Zippers and KWIK SEW patterns.*

35% off ALL cotton thread.*

*Exclusions are as follows: Machinery, items already on clearance and select non discountable items.

Please use the following discount codes in the posters below at the checkout of our website during the sale period to apply the discount to your purchases.

Questions? Please let us know so we can assist you!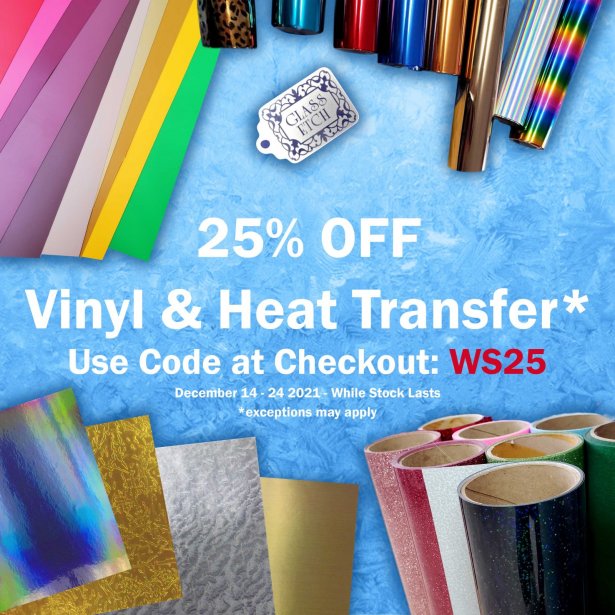 Ask the Expert!

Frequently Asked Question: There's a lot of confusion on magnetic hoops. Can I use them on my embroidery machine, or not!?!?!

Expert Answer: It depends... The first thing to consider is if your brand makes magnetic hoops. If so, do the hoops fit on your model?

Using hoops manufactured for you machine is important because they are designed so that your machine knows the size of hoop, and that the embroidery area is slightly smaller them the hoop itself. This means that when using your various designs, the needle will not come in contact with the hoop by mistake. There are a lot of aftermarket hoops available, but the issue is that your machine will not recognize the size of the hoop, and if the design goes close to the edge, or is placed improperly it could mistakenly embroider right into the side of the hoop. In the case that the needle made contact wit the hoop, it causes damage to the machine that is usually quite costly to repair.

Another question we receive frequently is: "Wont the magnets harm the computerized portion of my machine?" Great question, but rest assured this is not the case. The magnets wont erase, wipe, or mess up any of the information in your computerized machine.

So, can you use magnetic hoops on your machine? The short answer is yes. It is safe to use magnetic hoops on your machine as long as you use magnetic hoops designed to work with your make and model.



***


Do you have a questions for one of our experts? Send them to mikaela@thatsewingplace.ca



Name That Tool?

Have you heard of the Mini Vacuum?

Possibly one of our favourite tool for cleaning your machine, the mini vacuum comes with different attachments ton help you perfectly clean your sewing or embroidery machine.

Unlike canned air that will hurt more then heal...the mini vacuum is a perfect addition to your sewing room. Team it up with a toothbrush or small bristle brush and use it to aid in cleaning away lint and buildup in your bobbin case.

See it HERE



Until we have an opportunity to see you again! Stay healthy, stay safe!

Sew On and Sew Forth!

~

Jaret and The Seam Team

That Sewing Place
905-715-7725
info@thatsewingplace.ca
10-16610 Bayview Avenue
Newmarket, ON L3X 1X3