Autumn Update


Pumpkin, spice, and everything nice - THAT is what fall is made of! Hopefully you all have a chance to take a pause on your day, and just enjoy the beauty that is autumn.

Now let's look at what the Seam Team has been working on to share with us! Along with new projects we have new products, and classes to be announced. Movember is coming up next month, and we have some fun ideas to inspire you, to make gifts for the man in your life.





What's New?



The Retreat Bag Turned Dopp Bag - Charmaine




Charmaine used The Retreat Bag FREE pattern from Emmaline Bags to make this awesome Dopp Bag!

The Dopp Bag was designed with functionality, and durability in mind. It is large enough to fit in a pair of PJ pants plus your toothbrush, shaver and other essential items OR just use for your bathroom essentials to keep them dry and organized.

Odicoat was used on the bag inside and out, which makes it waterproof. The great part about using Odif OdiCoat is that you can apply a thin layer or multiple to make your fabric act like oilcloth. It does not wash away, and makes your fabric anywhere from water repellent to waterproof!

Fabric Used:

Packed Vintage Motorcycles - See is HERE
Basic Piano - See it HERE

Download the FREE pattern for The Retreat Bag HERE


~


Odif OdiCoat




AMAZING!!! In gel form, Odif OdiCoat transforms the fabric into a coated, waterproof and machine washable fabric.

1 coat, the fabric is protected, water repellent. Area of coverage: 32 sq.ft (3 m²)
2 coats, the fabric is coated, with a coated canvas look. Coverable surface area: 21 sq. ft. (2 m²)
3 coats, the fabric is waterproofed, with a waxed canvas look. Coverable surface area: 19 sq. ft. (1.8 m²)

Once treated, the fabric can be sewn, cut and cleaned. It possesses a great resistance to wear and is machine washable at 30°C.

You can use Odicoat on finished textile projects to give them an oil cloth effect or render them waterproof and washable (by ironing to cure).

Made in France, the product does not contain Bisphenol and is water-based. Odif OdiCoat can be used with indirect contact to food related projects: aprons, tablecloths, placemats, pie bags, etc... You must wrap foods before placing them in an Odicoat treated bag.

See Odif OdiCoat HERE

P.S Yes we are out of stock, but not for long. Let us know if you want us to save you a jar when it comes in ;)


~


PJ Pants - Charmaine




Is there anything better then a cozy pair of pants? If there is, we haven't found it yet!

These PJ pants are ready for game night with the Most Valuable Player flannel. This flannel is so soft and gets more so with every wash.

The pattern is a fun easy project, with an elasticated waistband. From start to finish, the projects can be completed in an afternoon or evening.

See pattern HERE
See Most Valuable Player Flannel HERE
See all flannel HERE


~


Beer Mug Rugs - Lea





These Beer Mug Rugs are from Sweetpea, and are a fun and easy to make, and are great as a gift. They are made in the hoop and come in different sizes. Customize them even more by making them waterproof with either ODIF ODICOAT, or with HeatNBond Iron On Vinyl.

Fabric Used:
Basic Piano - See it HERE
HeatNBond Iron On Vinyl - See it HERE

Download Pattern HERE


~


The Sylvia Bag from Kunztwerke - Charmaine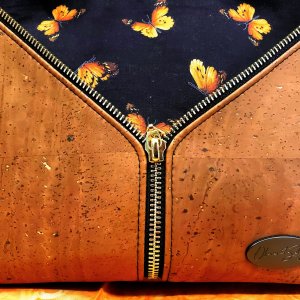 Check out this gorgeous bag, made by Charmaine! This is the Sylvia bag from Kunztwerke. We can't get enough of the look of this bag, and combination of fabric with cork. Classy, sassy and bright!

The bag has a solid design right down to the details, making it perfect as an everyday bag to keep you in style.

The best part, however, is that this bag is going to be offered as a class in early 2022! Stay tuned for more information on registration, which will be coming soon.

Download pattern HERE


~


New cork in stock!!!

Calling all cork fabric Lovers!

We are please to announce that we have a selection of cork fabric back in stock! Perfect for bags, wallets, accessories, and so much more, you will fall in love with this super soft, sew-able, durable, and beautiful cork fabric.

Real cork bark fused to a soft woven fabric backing, ideal for bag making, crafts, upholstery, and many other uses. It is a renewable, ecofriendly, sustainable, vegan, and PETA approved product. All dyes are vegetable based.

This cork fabric has been treated with UV and abrasion protectants as well as scotch guard. It can be wiped clean with a soft cloth and weak soapy solution - baby wipes are an ideal cleaner!

About the cork fabric from MM Cork Supply: This is upholstery grade cork imported from Portugal it consists of 15.5% PES, 29.5% cotton and 55% PU.

See below all colours and prints are available individually, in 9" x 12" pieces.





All colours and prints below available in 18" x 18" Pieces.




Shop cork HERE

If there is a colour or size you would like that is not currently available, please contact the shop regarding your order so we can assist you.


~


COMING SOON! TSP fall fabric collection

This month we had a little fun and picked several bolts of fabric to make our own collection! What do you think of our latest TSP curated Autumn 2021 look?


Promotions


We are here for your creativity! If you have any questions regarding the projects and products highlighted above, please contact us so we can help.






~


October Foot of the Month


Classes


If there is something that we love here, it is the joy of learning. Because of this, we have been working hard to bring lots of new and fresh classes for you all, with a variety of different projects. Some of the projects will be introductory, intermediate, advanced and specialty! Quilting, embroidery, bags, and clothing make up some of the projects, to name a few! If there is something specific you want to take, please email: classes@thatsewingplace.ca.

Sewing Machine Essentials - bernette - With Jaret

In this class, you will start with the basics to get to know your machine, and then progress to maintenance, tips and trick from the tech, troubleshooting and finishing with a questions and answer period.

Our favourite part about this class is that although it is geared to be a starting point to learn your new machine, it is not only for beginner sewists. If you want to gain a deeper understanding of your machine, or just have a refresher this class is a great option for you.

Class fee is waived for machines purchased at That Sewing Place. If you have purchased you machine at That Sewing Place and would like to register, please contact the shop, and we will take care of registration for you.

REGISTER HERE






Ask the Expert


Charlene Asked: "Hey seam team, I want to use my ScanNCut to cut cork and vinyl, but it won't cut these materials cleanly. I really want to use it to cut out the pattern pieces for bag making to speed up my workflow, can you help me get started?"

"Hey Charlene, that's a great question, and a creative way to use your ScanNCut! Yes, we can absolutely help you get started. The keys to a successful cut are keeping the machine slow, making more then one cut, using a sharp blade and a high tack mat.

First lets start with the tools you need. For cork or vinyl you will want to use a very high tack mat. For the ScanNCut DX series machines, this means a fabric mat, or a standard tack mat with a high tack fabric support sheet on top. For the CM series machines, this means using a standard tack mat with a high tack fabric support sheet attached.

As for the blade, you want be using a SHARP auto blade (for DX machines) or the deep cut blade (the purple holder for CM series machines.)

Now you are ready to cut! Be sure that when you apply the cork (not cork side down) to the mat you use a brayer so there are no air bubbles underneath - those will cause nasty little jagged edges!

Now lets get to actually cutting it out...When I'm cutting a thick fabric, especially a dense one like cork or vinyl it is important to cut it out more then once. This way, you don't get any ripping, mulching or shifting.

Before you do any cutting, slow the machine down as slow as it will go, this will reduce shifting while it is cutting. On the DX series machines, I always start with a test cut to see how the auto blade handles the material. If it cuts easily, but not all the way through, try cutting the same test one more time, and it should come out clean. If not, do a fresh test, and increase the blade depth slightly.

For the CM series machines, I would do the same thing. Start with a low to medium blade depth, do a test cut and see how it responds. If it doesn't cut all the way through, cut it again. If it still doesn't cut all the way through...increase the blade depth slightly - by a half notch - and cut it one more time.

Once the test comes out clean, do one more with the secured settings to make sure.

From here on out, it's all about getting to know the feel of your material and machine to find the perfect settings. To recap, for a successful cut in vinyl, cork fabric or other dense materials:

1. Slow down the cut speed on your machine.
2. Be sure to use a sharp blade, and high tack mat.
3. Do not apply your cork fabric cork side down.
4. Cut each piece 2 times rather then making a big increase to the blade depth and pressure.
5. Take your time with the test cuts, it is the most important part of the process.
6. HAVE FUN!"

- Mikaela





Name That Tool


BODKIN: Bodkin, an essential tool in every sewing room. This versatile tool is so handy during garment construction, or even just on laundry day, and there are different kinds for different needs!

Today we are looking at the wide bodkin. This one is really neat because once set on the fabric, elastic, or whatnot you are feeding through, you can lock it by using the red slider. This is so handy because it keeps a tight hold onto the item you are feeding through, so that it doesn't separate during the process.



Great use for braiding wide tapes such as bias tape loops or ribbons. Also convenient when weaving strips of fabric or cords for mesh-work.



See Wide Bodkin HERE

---

Until we have an opportunity to see you again! Stay healthy, stay safe!

Sew On and Sew Forth!

~

Jaret and The Seam Team

That Sewing Place
905-715-7725
info@thatsewingplace.ca
10-16610 Bayview Avenue
Newmarket, ON L3X 1X3