Skip Navigation
Website Accessibility
May this letter bring a smile to your week
May your stitches be many, your seams be straight, and your laughter - ENDLESS!


Hello again, and happy May everyone!

We are pleased to announce we have a new column to share with you! We are overwhelmed with the support we have received as a small business, and cant wait to give our support in return!

Read on for projects, tips, and tricks. Creativity is blooming! May it bring a little happiness to you this week :)


Covid-19 Update

We are still here! Ontario is still currently in the grey zone, so we continue to serve you as best we can during our reduced availability.

Curbside pickup - place an order on our website, or call or email in your order. When your order is finished, we will notify you it is ready to ship, or to be picked up.

Shipping - YES! We can ship you your order.

*Current promotional offer - valid until MAY 31* Any orders over $150, we ship for FREE.
*please note, $150 is before tax, and after discounts.*

Machine Repairs - We are still repairing machines. Please contact us to arrange a time to drop off your machine for an assessment. At that time we can advise of current turnaround time.

If you have any questions regarding shopping or assistance with your machine, please reach out to us and we will reply as promptly as possible!




What's New?


Did you know that May 5 is World Laughter Day? When we heard there was a day dedicated to laughter, we knew we had to do something. But what?! There is so much to laugh about, and it was so hard to choose...but then we had an idea. It is a blast from the past, made new!

Lets see what Diane has cooked up for us for World Laughter Day.

Peanut.....Peanut Butter, JELLY!

Who remembers the song Peanut Butter by Sharon Lois and Bram?!? It brings a smile to kids, and adults alike, and is there anything more happy then a child having fun? This little lady is the perfect model!

Diane has made this adorable peanut butter and jelly t-shirt, and added a Spotify tag, or scan code using Heat Transfer Vinyl, or HTV.

Do you notice that bar code at the bottom? That is a Spotify tag, or scan code. If you go into Spotify, it will take you right to that song to play it! HOW COOL IS THAT!?!?!

See our Heat Transfer Vinyl HERE




*
*
*

Journey Bag

All Packed up and ready to go!

Going to the beach on a picnic, or an adventure, this bag will go with you!

This Journey bag is so pretty, and we love how deep it is! It's really handy to hold your towels, snacks, purse, books and whatever other must-have goodies you want to bring.

We lined the bag with Technical Torpedo, an extremely water resistant fabric. We tested it ourselves, and the water just beads right off. If you wanted to make it perfectly waterproof, you could put some OdiCoat over the stitching to never worry about leaks inside your bag!

See the Journey Panel HERE
See Technical Torpedo HERE
See OdiCoat HERE





*
*
*

Butterfly Bag

Lea made this design into a bag. We really like this bag because like the journey bag, it is deep and perfect for carrying books, or taller objects. You can even make this out of recycled denim, if you have old jeans or jackets that are well loved, and need a new lease on life.

The handles of this bag have webbing inside for extra stability.

If you want, you could use stabilizer to give it some extra body, or leave it as a soft tote bag.

The Butterfly embroidery design is from Embroidery Library, called Butterfly Bouquet - M17911

Bag pattern: Original by Lea

So sweet and creative Lea!




*
*
*

Adrienne's Drapey Dress

We are so thrilled to see Adrienne Gallagher had great success with Seraflex thread on her lovely Ponte De Roma Dress! Amazing as always Adrienne!

We didn't just get pictures, We also get to enjoy her process adventure creating this dress, scroll to follow along.

Take a look at Seraflex thread HERE



"I wanted to try a free project from the Great British Sewing Bee, the Drapey Knit dress. You can find the link to the free pattern here: https://www.pinterest.co.uk/pin/531987774710667485/

It is a simple pattern with no closures, and an interesting pleat feature at the front.

I chose a double-knit ponte fabric in a rose pink from That Sewing Place. It had a lovely drape and felt heavy for its thickness – it is quite stretchy – read "comfortable". I planned to sew it on my BERNINA sewing machine rather than an overlocker. My concern was that the stretchy fabric would not be best sewn with a standard thread. A standard thread could break with the stretch over the head and hips, added strain at the narrow bottom hem, and repeated washings may break down the thread over time. You suggested Mettler Seraflex thread. It features a stretch of up to 62% but should act like a "normal" thread in my sewing machine. You know I am always excited to try something new, so I was delighted to find you had four colours in stock – white, beige, black, and even blush pink!


I rushed home to pre-wash my fabric, print my pattern pieces, tape them together, and cut out a paper pattern. Then I excitedly cut out the fabric, transferred the markings, and steeled myself for the difficult task of sewing with a knit fabric. With my breath held, I wound a bobbin. It acted exactly as you would expect the thread to act. I had a lovely, evenly wound bobbin. Bobbin inserted and machine threaded, I tested my stitch on a scrap of fabric. Straight stitch – no problem. But I wanted a bit more stretch (bread making is another of my hobbies, and I NEED a stretchy dress). Next, I tested a narrow and short zigzag. Perfect! I had my construction stitch.


After a couple of hours of head-scratching, pinning fabrics carefully in place, and sewing them together, I had a nearly finished dress! Topstitching and understitching required that I switch to straight stitch – I still had great results. Now I wanted a professional finish for the sleeves and hem. Should I dare? Yes, I went for my stretch double needle. To create a second source of thread from only 1 spool, I wound a bit of thread on another bobbin and set it up on my vertical spool pin. A cup of tea for fortification and I threaded the machine for twin needle sewing. To avoid disappointment, I ran a few tests. A little longer stitch length looked even better on my tests. The bobbin thread zig-zagged nicely on the back to catch both bobbin threads, and I had a beautiful line of double stitching on the top. Heaven!


I tried the dress on and it IS comfortable. The bottom hem is designed to come close to the body, and the thread holds up to the strain put on the hem during walking and sitting. Thank you for the great recommendation.


The great news is that I also picked up a spool in black. I can't wait to use it on leggings, undergarments, tank tops, and a t-shirt pattern cut and ready to sew. With this thread, I feel even more confident sewing with knit fabrics. Thanks for the tip! I hope others will give it a try.

*
*
*

Chris's Quilt

Chris has shared Some photos of her just finished quilt! Loving the blue and white, its so classic and never goes out of style.

Chris used the Backporch Design 7" Crazy Curves template to make this pattern, and quilted it on her embroidery machine.

Well Done Chris!

See the Backporch Design Curve templates HERE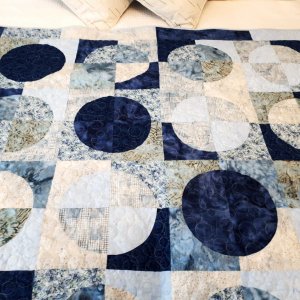 *
*
*

Diane's Spiral Betty

Has anybody heard of a Spiral Betty? Is has been super popular lately in the crafting community!

So what exactly is it? A Spiral Betty is an image that is converted into a a piece of art, made up of a single line. As the line spirals in various widths, an shapes, it shows up as a funky version of the original image!

Diane used her Brother Scan'N'Cut to make her Spiral Betty into a Wedding Anniversary memento.

This project was made using Sign vinyl on canvas, but you can also use Heat Transfer Vinyl and put it on fabric!

She added the spotify scan code at the bottom of her spiral betty as well!

Super cool Diane!

Want to make one of your own? Grab some sign vinyl - HERE!
See Heat Transfer Vinyl - HERE






*
*
*

Puppy Pack!

Charmaine has created this awesome puppy pack! She used the Jalie 2020E Galaxie 4, Accessories for Pets (and their Humans).

This super sweet set is perfect for travelling with your pet. You have everything you need to keep your pet comfortable, and bring necessary supplies with you. There is the comfy bed, collapsible water bowl, roomy fanny pack and more! Not to mention, you can dress it up any way you like!

Charmaine used leopard print canvas - Oh so sassy, and we love it! - and lined the bed with black twill. The water bowl is lined with technical torpedo so you can empty, shake it out and go!

See Canvas - HERE
See Twill - HERE
See Patterns - HERE

Gorgeous Charmaine!!


Support Local

We are so excited to share this new column with you! Many of us right now are making an extra effort to support small business, so we have made this column specifically to feature local small businesses that we have had the pleasure to connect with.

We hope that you enjoy seeing their amazing creativity, and help spread the love and support around!



Ready TO RIDE?! - With J.E.T Stitching



Our First feature goes out to J.E.T Stitching. They use the Brother 6 needle embroidery machine to run their custom embroidery business. J.E.T. Stitching offers a variety of different items like hats and clothing, and home dec items such as pillows towels and more, in a homey, country classy Canadian vibe.

Check out their latest product for equestrians - Helmet hair don't care! Snap-back ball cap, and embroidered Fly Bonnet.

L and R are on the back of the ears on the fly bonnet, which is amazing for kids just learning left and right, or for the dyslexic rider! Keeps you "on course" at shows so you never mix up a turn again!




To see more amazing work by J.E.T. Stitching, see their Instagram and Facebook @j.e.t.stitching, or contact directly at jetstitching@outlook.com.



Promos

Reminder for everyone, the BERNINA Leather Roller foot is the foot of the month!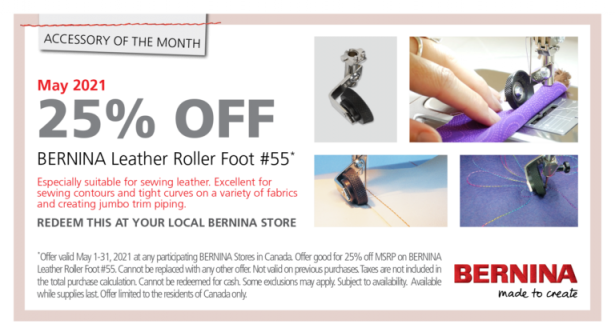 Ask the Expert!
This time on Ask The Expert, we have a question for Jaret our technical Expert. Jenny Asked:

"I hope you can help! I have recently tried using metallic thread, and it just keeps snapping! No matter what I do, it doesn't work. I have tried changing the needle, sewing slowly, changing the tension, and I'm ready to give up. Surely there is a way to make it work, what should I do?"

"Hello Jenny, youre not alone! working with metallic thread is a little tricky. The first thing to check is to be sure that you have the thread on the right type of spool pin.

The reason this is, is because metalic thread is not like regular thread that is round. Metallic thread tends to be more flat, like a tiny ribbon. Regardless, it is indeed made of metal fibres wrapped around a fibre core (Cotton or Silk or whatever the manufacaturer has chosen to use).

If your spool of thread is on a spool pin that is causing the thread to twist as it is is coming off the spool, it will cause snapping and all sorts of ugly things because of the friction. Think of aluminum foil being twisted rapidly like wringing out a towel.

So how do you know which spool pin you need? The thread needs to come off the spool at a 90 degree angle to the spool. Generally, if the regular spool pin on your machine is horizontal, you will want to use a vertical spool pin. This means if you usually use the horizontal spool pin, switch to the auxilliary vertical spool pin and you should be good to go.

Most machines with vertical spool pins will be fine, with the exception of the few with an telexcopic spool stand. In this case, you would just skip threading the guide at the top of the telescopic spool stand.

Once you know this, the next thing to do is make sure you have a metallic needle. The eye of the needle is elongated to accomodate the shape of the thread, which helps prevent shredding and breaking.

Lastly, reducing your sewing speed to half will greatly improve stitch quality, and eliminate the friction causing thread breakage.

If you still have any questions about the above, dont hesitate to let us know!"

Do you have a questions for one of our experts? Send them to mikaela@thatsewingplace.ca

There are no stupid questions, we are all here on a learning journey together!
Name That Tool?
Is there really a magic everything tool to take away your sewing sorrows? Almost, and the name is Wonder Tape! This is a wash away double sided tape, for all your sewing needs.

Wonder Tape is wash away, and replaceable if you make a mistake on the first go around. You can use it on any type of fabric, including materials as delicate as lace. Best of all, it doesn't gum up your machine! Unlike regular double sided tape that is used in crafts, this tape is specially formulated for use with fabrics and a sewing machine.

Take a look at Wonder Tape HERE

Ute is our in-house Garment Construction Extraordinaire, and she explains how she uses wonder tape.

"Oh boy, where do I even start? I love using Wonder Tape to hold buttons in place before I sew them on my sewing machine. If you are doing any kind of a curved hem, it is a great great tool to hold the hem in place before you stitch it. For Pockets, I always tape them in place before i sew them in, then there are no worries about pins, buckling, or anything else. Zippers!! If you EVER have to replace a zipper... just unpick the yoke, tape the new one in place and top-stitch!"

- Ute Sherman, Garment Construction Extraordinaire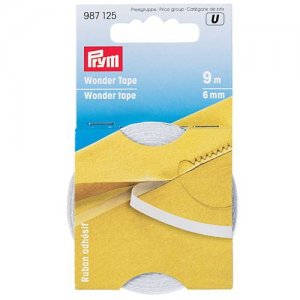 Take a look at Wonder Tape HERE


Until we have an opportunity to see you again! Stay healthy, stay safe!

Sew On and Sew Forth!

~

Jaret and The Seam Team

That Sewing Place
905-715-7725
info@thatsewingplace.ca
10-16610 Bayview Avenue
Newmarket, ON L3X 1X3