How fast this year is flying, April is now upon us!

The weather is temperamental, the grass and first flowers are shooting up, the birds are singing and even the air smells fresh!

So what's happening at TSP? We have an update on curbside pickup, shopping and machine repairs, fun new fabric and projects, and promotions!



As of April 3, 2021 the province of Ontario has moved back into the grey zone, and has entered shutdown plus stay at home order. What this means for us:

Shopping: No in-store shopping at this time, BUT we can always do a virtual shop, and video chat around the store so you can have an inside look at what we have in currently.

You can also check shop online on our website, as we have almost everything we carry available for purchase.

Machine test drives are not available at this time, but we would be happy to do a virtual demo of the machine so you can see it in more detail, and answer all your questions regarding the machine.

We accept website, phone, or email orders. Curbside pickup is available Tuesday to Friday, from 1 - 5 pm.

Tech Shop: We will continue to take in machines for repair, however due to limited capacity please be sure to contact us to arrange an assessment date for your machine.


Earth Day is April 22, 2021, so this month we are thinking about recycling, gardening, and flowers!

Scrub-a-Dub-Dub!

Our featured project this month is this recycled facecloth soap pouch! Its a great way to recycle a well loved facecloth, and so handy if you are travelling or camping. The drawstring on the top makes it easy to add or remove soap as needed or for washing.


Garden Collection

We are welcoming in the Garden Collection! We love the soft colours and vintage vibe, it is just too sweet. Lea has made up some placemats, coasters, and microwave bowl cozies, perfect for a spring tea party!

See the Garden Collection HERE





Watch Me Grow

Watch Me Grow growth chart is a panel that comes with a growth chart, and 4 adorable baby bibs! Also available is a coordinating fabric, Leaf Toss.

Check out the Watch Me Grow Collection HERE




Butterfly Blocks and Table Runner

Have you seen Sweetpea's Butterfly Blocks and Table Runner?!?

This is such a nifty pattern because there are 6 different blocks, each 2 makes one butterfly, so there are 3 butterflies in total, which means you can mix, match and arrange however you like!




Cat-i-tude Collection

Last but not least is the Cattitude Collection! We thought is was just too Purr-fect and had to see it in a bag, but of course your only limit is your imagination!

See the Cat-i-tude Collection HERE



BERNINA 2021 Spring Sale, April 7 to May 1, 2021. Check out the great deals BERNINA has in store for us this spring! Machines, Big Books, and Feet - OH MY!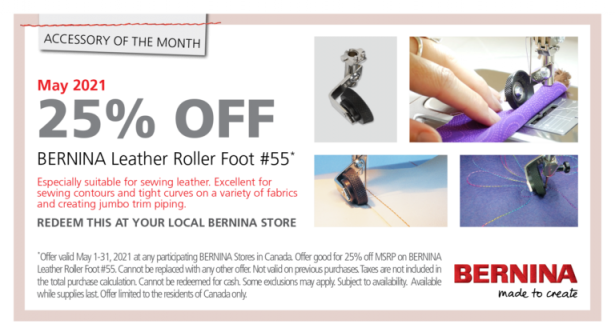 If you have any inquiries regarding this promotion, please let us know!


This time on Ask The Expert, we have a great question for Diane, our embroidery Expert. Marlene asked:

"I just received my first embroidery machine what do I need to get started?"

"Well, if that isn't a loaded question, first and foremost your machine manual is the best place to start. Every machine comes with a manual and usually a quick start reference guide. This will help you in setting up your machine, in the case of sewing/embroidery machine, the manual will tell you what foot is required, as well as how to attach/detach your embroidery module. With a standalone embroidery machine your machine will only come with the appropriate foot, and of course hoops.

It is pretty easy to attach your embroidery module, and hoops, most machines will tell you if something is not hooked up properly with an error message.

You will need some basic stabilizers, it is good to remember, as a rule of thumb, "if you wear it – don't tear it". Meaning on wearable items it is recommended to incorporate a permanent cutaway stabilizer. Tearaway stabilizers are great for no wearable items. Just like when sewing a buttonhole or shirt placket where you would use interfacing to stabilize the fabric, you need stabilizer for embroidery to hold the stitches and prevent puckering.

Another import must have, is embroidery threads, these are generally a 40 weight thread, available in polyester and rayon mostly. There are other specific threads but not essential to get started. Ideally the top thread is pulled to the backside of the design, you should never see the bobbin thread on top. Bobbin fill is specially designed for use in the bobbin, it is a lighter weight thread and is available in many colours, however as it is never seen the most economical colour is black and/or white.

Needles, machine embroidery needles have a larger eye to accommodate the heavier weight embroidery thread, and just like with sewing you should match the needle with the type of fabric you are embroidering on. Embroidery needles are available as sharps and ball point basically, with variations for specific fabrics.

Start by taking baby steps, explore the designs that come on your machine. Experiment on scraps of fabric. To get you started experimenting a good place to start is with an 80/12 sharp embroidery needle, embroidery bobbin fill, decorative embroidery thread, 1 piece tearaway stabilizer and 1 piece cutaway, or 2 pieces of tearaway. Hoop your layers together with the fabric on top, attach your hoop, select design and go. Your machine will stop after each colour of the design is stitched to allow you to retread with a new colour.

I hope this helps to get you started, have fun.

-Diane"